In This Post
---
COVID-19 has caused tremendous pain and suffering all around the world. As I'm writing this, over 350,000 people have died globally and more than 100,000 in the United States alone. I'm aware my plight is a very minor issue in the grand scheme of life, however, it really sucked to have my trip to Rio de Janeiro, Brazil canceled in April 2020. I'm not the only traveler out there that feels this way. Thousands of trips have been cancelled over the last few months and no one really has any idea when these trips will be safe to take again.
The trip to Brazil carried significant importance for a number of reasons — first, one of my closest cousins was going to be joining me for the second time (his first two trips out the country). My cousin is someone who I've always seen more like a brother. We're only 2-years apart in age and genuinely love and respect one another. This was going to be vital quality time for us to engage in-person (we live 2,431 miles apart), create memories that will last a lifetime, while having the best times of our lives. Additionally, it was going to be a major travel milestone for me personally — country #20 and continent number #5. I couldn't wait to make my way to South America.
---
Pre-Travel Research
Prior to each trip, whether it's International or Domestic, I do fairly extensive travel research on the place(s) I'll be visiting. This process can start as far out as 6 months from departure, but usually I start around the 3-month mark, unless I book on shorter notice. This is my process and how I build excitement for my trips. Plus, I genuinely enjoy reading and researching travel information. I'm looking to gather details on the following:
Top Tourist Attractions
Interesting Activities (Things to Do)
Restaurants
Nightlife (Bars/Clubs)
Local Foods/Drinks
Transportation
Tips
I use a variety of resources for my research — I try to capture multiple perspectives when possible — and make sure the information matches up when I find multiple resources. Most importantly, I like to have visuals of the places I'm traveling to, which gives me an idea of what to expect when I arrive — this is most useful for "top tourist attractions." The resources I've found most useful for my research over the years are:
YouTube

– great for visuals from people who are vlogging (video blogging) in the countries and cities you have interest in visiting. There is so much great content that you'll learn details that you didn't even imagine.

Instagram

Hashtags – allows you to see photos from people all around the world that posted using that specific hashtag — for example, #riodejaneiro was a hashtag I used. It's a great resource assuming you use Instagram. Be sure to follow me, your travel blogger at

GWIL34

.

Reddit

– excellent resource which allows you to post questions in discussion forums and have people who live in the city/country or people who have been to that city/country you want to visit answer for you. Additionally, you can read other peoples questions and see what answers have already been provided. A great way to learn more in-depth knowledge of a place you want to travel to.
TripAdvisor – world's largest travel platform. You're able to peruse hundreds of millions of traveler reviews and opinions. Compare prices on flights, hotels, attractions and more.
The Points Guy – a go to resource for travel advice, guides, reviews, deal alerts, travel credit cards and more.
Travel and Leisure – awesome website for travel news, reviews, guides and tips.
Travel Blogs – there are an unlimited number of incredible blogs you can use for inspiration, but hopefully "All A Dream Travel Blog" is included on your list for inspiration.
---
After completing my pre-travel research (completed months ago at this point), below is some of the intelligence I've found that has me excited and ready to explore Rio de Janeiro, Brazil at some time in the future. The vivacious culture, beautiful women, sandy beaches has me dreaming of making it to Rio.
Top Tourist Attractions
There are many attractions in Rio, but it was clear right away that 3 of them stood out more than the rest — Copacabana Beach, Ipanema Beach and the Christ Redeemer Statue. I'll share some interesting details I've found on those top attractions and more — can't wait to take photos while in Rio.
Copacabana Beach
An iconic beach that is considered one of the most beautiful beaches in the world. It is extraordinarily popular amongst all, but especially tourists. The atmosphere is vivacious and the people are colorful and fun loving. Copacabana beach runs for 2.2 miles, so there's plenty of beach to explore. Copacabana beach offers incredible sand sculptures and a bustling promenade. I envision great times here with my cousin and new friends we'll make.
Ipanema Beach
A beautiful white sand beach considered to be the jewel in the city's crown. Ipanema is a highly desirable place to live and vacation. It's one of the wealthiest neighborhoods in all of Rio, which means there are many upscale boutiques and trendy restaurants here. The beach is also known for sunbathing, and the spirited soccer and volleyball games you'll find. I think it's safe to say, me and my cousin will spend time here — our hotel is a short 5-minute walk away. The beach was popularized by the song "The Girl from Ipanema" by Stan Getz.
Christ The Redeemer
Listed as one of the New 7 Wonders of the World, Christ The Redeemer stands 98-feet tall and 92-feet wide with its stretched arms. The gargantuan statue of Jesus Christ sits at the peak of the 2,300 foot Corcovado mountain in the Tijuca Forest National Park overlooking the city of Rio de Janeiro. I can't wait to take in that view and soak up the atmosphere at the statue. The photos will be amazing!
Parque Lage
A more under-the-radar attraction in Rio is a former mansion turned public park tucked away at the foot of Corcovado mountain. It's the starting point of a challenging trail leading up to Christ The Redeemer statue. But before heading up, I can't wait to have breakfast at the Plage Café located inside and take some stunning photos of the beautiful scenery.
---
Interesting Activities (Things to Do)
These are very random details I discovered during my research that I jotted down as actitivies to consider doing while in Rio.
Helicopter ride overlooking the beautiful city of Rio de Janeiro via Helisight.
Paragliding from the lofty Pedra Bonita viewpoint.
Paddleboarding at Red Beach which is a picturesque beach below Sugarloft mountain.
Visit Cabo Frio city within state of Rio.
I absolutely love helicopter rides. I've taken city tours in London, Las Vegas and Seattle (Seaplane). I plan to add Rio to my list — hopefully my cousin will join me. I've never been paragliding before and I'm not even sure I'm comfortable doing it, but nonetheless, it's in consideration. I'm always looking for new experiences and traveling brings it out of me even more. Red Beach is an enclosed volcanic beach with dazzling views — add in paddleboarding and it sounds like a strong contender for me. Not to mention, Sugarloft mountin is on my list of places to visit. Lastly, Cabo Frio beaches are known for surfing. I don't actually surf, but maybe I could learn to.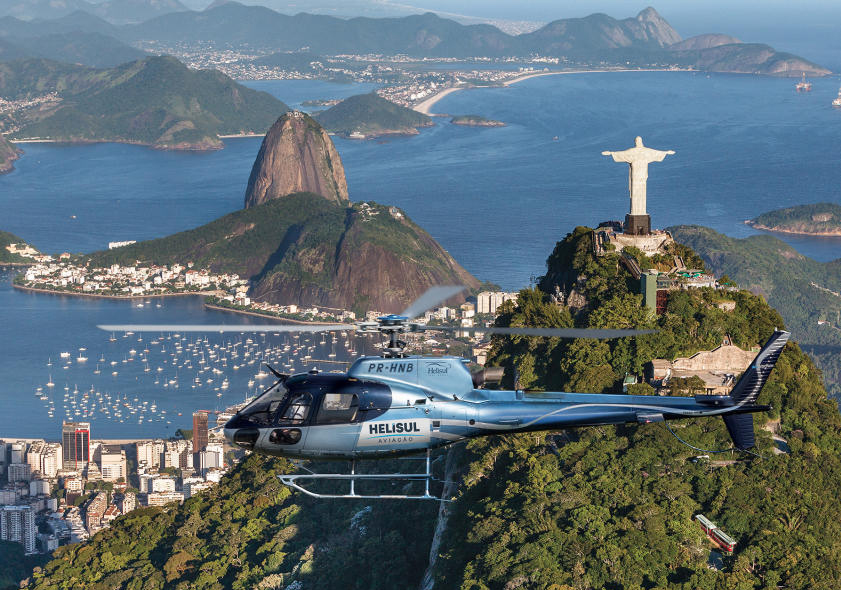 ---
Restaurants
My strategy when it comes to jotting down restaurants is simple — if I come across restaurants that are rated well during my research, I make a note of it. I like to have options because I don't exactly know what everyday of my trip is going to look like. I might keep a tight budget on eating out, or I may have extra money to have a unique dining experience. Also, I find it's much more difficult to decipher the good restaurants from the not-so-good ones once you get out of the country. My list will cover restaurants that are fairly inexpensive ($) to those that might have Michelin stars ($$$$). No, I've never eaten at one of the Michelin star restaurants on a trip, but I might one day. Here are a few places I found through my research:
Bar Do Mineiro

($$) – an iconic restaurant located in the bohemian Santa Teresa neighborhood — locals love the authentic Brazilian foods served here and the homey atmosphere. Extra points for being in an area I want to visit.

Canastra Bar

($$) – very small Brazilian wine and cheese bar in Ipanema with outdoor seating — it's a great place to people watch and hang with locals. On Tuesday nights, it's a gathering place where locals come to hang out with friends, have drinks and a good time.

Oteque

($$$$) – Alberto Landgraf, a celebrated chef in São Paulo, opened up this Michelin star restaurant in Rio. Guests are said to be impressed by the grandiose space, open-view kitchen, high ceilings and the delectable cuisine.
---
Nightlife (Bars/Clubs)
This is an area I don't spend a ton of time researching — I keep a list because I'm sure I'll dedicate at least a night or two for exploring the night life.
Aparzível

– tropical drinks and craft beer with ocean views in Santa Teresa.

Little Club

– great place to catch a Bossa Nova show. Bossa Nova is a style of Brazilian music popularized in the 1950s and 60s, but still one of the best-known Brazilian music styles abroad.

Bar Astor

– trendy spot with an airy terrace and major drink menu. Known as a good place for single people.
---
Local Food/Drinks
Caipirinha – a local delicacy that I'm excited to drink upon arrival. Caipirinha is a cocktail made from muddled lime, sugar, and a cane liquor called Cachaça — very popular in Rio.
Suco – fruit juice that is said to be delightful.
Feijoada – slew of black beans, meat, and garlic accompanied by rice, kale and orange slices. It's a Saturday lunch staple.
---
Transportation
From what I've read about Rio, you don't need a car — the Metro is $1 one-way, so that along with the bus, which is inexpensive, you can get anywhere you need to go. Other options — Uber, which is much cheaper in Rio than in the United States. Also, you can download the bike itaú app to rent bicycles from stands located throughout the city. Not to mention, I'm fine with walking 10+ miles per day — I've done it many times while out of the country.
---
Tips
Of course every tip you learn isn't going to be correct, but the goal is to educate yourself on small things that may save you from dangers, additional expenses or just a bad time. Below are tips I noted to be mindful of during my time in Rio:
Dress casually and don't wear jewelry for safety.
Always make sure taxis turn on the meter before taking off.
Be mindful walking while looking at your phone — people may attempt to steal it on the move.
Internet is not the best in Rio — try Starbucks.
Clubs are open until 6AM, you can make a night of it, if you choose to.
Popular restaurants will have English menus, but expect many others to not.
Sunday, the beaches are car-free until the evening, so a great time to walk the streets or better yet, rent a bike.
---
Although, I'm quite melancoly my trip was cancelled, I'm confident at some time in the future, I will make it to Rio de Janeiro, Brazil. I have credits for the hotel and flight waiting and my cousin still committed — it's just a matter of when it's safe to go there. I guess I can "dream" a little longer.
In closing… More Travel, More Life!